B156XW04 V.5 15.6" HD LED LCD screen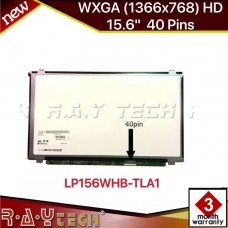 Custom Blocks
Welcome to RAY Tech!
We are 100% New Zealand owned and operated with GST registered.
The invoice is issued on every purchase.
With 3 months return to base warranty.
Fast Deliver: Same day delivery, Arrived in 1-2 days.
B156XW04 V.5 15.6" HD LED LCD screen
Installation service available !!!
1 hour fast repair by booking first !!!
We do repair services for all model of mobile phones and laptops !!!
Product Code: N3000369N
Specifications:
Condition: Brand New
Model: b156XW04 V.5
Display Technology: LED LCD
Screen Size: 15.6 inch
Max. Resolution: 1366 x 768
Data Cable Pins: 40 Pins
Commodity: Non Touch Screen
Mountings: Top and Bottom Brackets
Compatible Part number:
LTN156AT20
LTN156AT20-P01
LTN156AT20-001
LTN156AT29
LTN156AT30
LTN156AT11

LP156
LP156WH3
LP156WH3TLA1
LP156WH3-TLA1
LP156WH3(TL)(A1)
LP156WH3TLA2
LP156WH3-TLA2
LP156WH3(TL)(A2)

LP156WH3-TLE1
LP156WH3(TL)(E1)
LP156WH3TLL2
LP156WH3-TLL2
LP156WH3(TL)(L2)
LP156WHU

B156
B156XW03
B156XW03 V.X
B156XW04
B156XW04 V.X
B156XTN03
B156XTN03.2

LTN156
LTN156AT20

N156BGE
N156BGE-L41
N156B6
Compatible Model:
Acer 5534 5745G 5810 5810T 5810TG 5810TZ 5820 5820T 5820TG 5830T 5830TG
Sony Vaio SVE151A11W
HP COMPQ ACER ASUS LENOVO
DELL INSPIRON 15-3521, 5320
Terms & Conditions:
1. The payment is expected within 3 days after the product sold, otherwise the item will not be hold.
2. A reference number is essential on all emails & bank deposits otherwise you will expect the delay of shipping.
3. The item will be fully checked before shipping, NO refund or replacement because of physical damage.