EBL 6 USB ports Travel Charger for mobile phone or tablet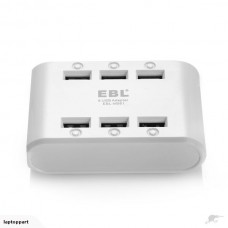 Custom Blocks
Specification:
1. Input: AC 100-240V 50/60HZ, Output: DC 5V 4.2A
The three USB ports on one side is one group, and the output is 5V 2.1A as well as the other side. The output is 2.1A, if only one port is used. The output is 1.05A, if only two ports are used. And the output is 0.7A, if three.
2. 1-6 phone(s), tablet(s) or power bank(s) could be charged by the device at the same time.
3. When the indicate lights are flashing, it means the device is overloaded, please remove the some charging equipments, until indicate lights stop flashing.
4. 6 lights will be lit, when the device is plugged into power. Pls check your equipment(s) to see whether it is (they are) charging.
5. Suitable for global voltage.