[RSUMSA50B] A505F GALAXY A50 LCD WITH TOUCH - BLACK WITHOUT FRAME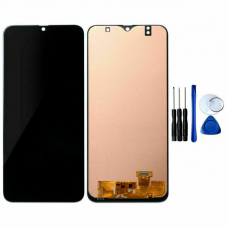 Custom Blocks
**** Samsung Galaxy A50 LCD Display + Touch screen Digitizer Assembly without Frame ******
RSUMSA50BNF
We also do all repair service. just add installation fees.
Features:
Display + Touch screen Digitizer Assembly with Frame
Fully tested before shipping.
Excellent after-sale service
High sensitivity, durable performance, easy installation.
Excellent replacement for your broken screen.
It is used to repair or replace faulty screen: old, scratched, cracked, dead pixels, clouding, wrong color issues, vertical lines, etc..
With Repair Tools:A set of quality repair tools .(You May also need other tools in order for you to be able to fix the device.)
Compatible with:
'For Samsung Galaxy A50 A505 A505F/DS 2019
Samsung Galaxy A50 2019 SM-A505 SM-A505F A505F/DS
Package include:
1 x Touch screen Digitizer Assembly without frame
8 x Repair Tools
There is a 100% double tested for each screen replacement before shipping. We provide 1 year service to amend/fix.And additional repair tool kit with all the tools needed to replace the Genuine LCD Display + Touch screen Digitizer Assembly with Frame
Note:-
1. No instructions are provided for installation with parts.
2. Delivery within 1-3 business days after Payment if Paid for courier Delivery.
Self Installation:-
1. Please strictly, test the item before installation and don't install it if it is faulty or arrives broken.
2. Only Install the item if u are satisfied with it.
3. Don't remove any factory stickers or labels from the product if you are returning it or getting it replaced.
Picture is for reference only, please read auction description carefully.
This is a third Party Product.
We are a GST registered company, the invoice is issued on every purchase.