6 Cell New Genuine 81+Battery For Lenovo ThinkPad T420s T430s T420si Series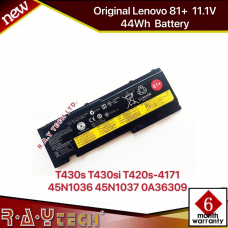 Custom Blocks
We are 100% New Zealand owned and operated.

Brand New with retails sealed Package.
with 6 month return to base warranty.
Fast Deliver:Same day delivery,Arrived in 1-2 days.
Specifications:
Battery Type: Li-ion
Voltage: 11.1V
Capacity: 3900mAh / 6Cell
Condition: 100% Brand new & High quality
Color: Black
Compatible with Part Numbers:
0A36287 0A36309 42T4844 42T4845
42T4846 42T4847 57Y4186 42T4803
42T4802 45N1036 45N1037 45N1038 45N1039
Fits for:
Lenovo ThinkPad
T430S, T430Si, Type 2352, 2353, 2354, 2355, 2356, 2358
T420S, T420S 4170, T420S 4170-27U
T420S 4170-32U, T420S 4170-33U
T420S 4170-3Bu, T420S 4170-3Du
T420S 4171, T420S 4171-52U
T420S 4171-53U, T420S 4171-6Ju
T420S 4171-6Wu, T420S 4171-6Zu
T420S 4171-74U, T420S 4171-7Fu
T420S 4173, T420S 4173-28U
T420S 4173-29U, T420S 4173-2Au
T420S 4173-2Bu, T420S 4173-Ksu
T420S 4173-Ktu, T420S 4173-Kuu
T420S 4173-L5U, T420S 4173-L6U
T420S 4173-L8U, T420S 4173-Lbu
T420S 4173-Luu, T420S 4173-Lvu
T420S 4174, T420S 4174-28U
T420S 4174-29U
Note:
If there is any problems, please feel free to contact us. We are happy to help you.
We are a GST registered company, the invoice is issued on every purchase
R.A.Y TECH LTD. NZ LEADING LAPTOP & CELLPHONE PARTS SUPPLIER AND MAC SPECIALIST FULL RANGE IPHONE SCREENS,SAMSUNG SCREENS FULL RANGE HIGH QUALITY ORIGINAL BATTERIES FOR IPHONE SAMSUNG HUAWEI IPAD SAMSUNG TAB IWATCH ETC. FULL RANGE LAPTOP SCREENS ,ORIGINAL ADAPTERS, ORIGINAL & REPLACEMENT LAPTOP BATTERIES.WHOLESALE WELCOME!
Terms & Conditions:
1. The payment is expected within 3 days after the auction closed, otherwise the item will not be hold.
2. A reference number is essential on all emails & bank deposits otherwise you will expect the delay of shipping.
3. The item will be fully checked before shipping, NO refund or replacement because of physical damage.
Please do not hesitate to contact us if there are any questions.
Thank you!!!
Happy Bidding!!!