Original WDX0R WDXOR Battery For DELL Inspiron 17 5765 5767 5770 15 7560 7570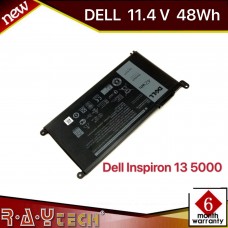 Custom Blocks
We are 100% New Zealand owned and operated with GST registered.
The invoice is issued on every purchase.
Brand New product with retails sealed Package with 6 months return to base warranty.
Fast Deliver: Same day delivery, Arrived in 1-2 days.
Original WDX0R WDXOR Battery For DELL Inspiron 17 5765 5767 5770 15 7560 7570

Product Code: N1032093G
Specifications:
Condition: Brand New
Product Type: Original Battery
Battery Type: Lithium-ion (Li-ion)
Capacity: 3500mAh
Voltage: 11.4V
Replace Part Numbers:
WDX0R 0WDX0R FC92N 0FC92N 3CRH3 03CRH3 P69G P69G001
T2JX4 0T2JX4 C4HCW 0C4HCW CYMGM P74G P75F
Fit Laptop Models:
Dell Inspiron 14 7000 series 14 7460
Dell Inspiron 13 5000 series 13 5368 5378 5379
Dell Inspiron 13 7000 series 13 7368 7378
Dell Inspiron 15 5000 series 15 5565 5567 5568 5578
Dell Inspiron 15 7000 series 15 7560 7570 7579 7569
Dell Inspiron 17 5000 series 17 5765 5767 5770
14-5468D-1305S 15-5568D-1845S 15-5568D-1645L 15-5568D-1745S 15-5568D-1525S
14-5468D-1525G 14-5468D-1525S 14-5468D-1605S 14-5468D-1625G 15-5568D-1625S
14-5468D-1745S 14-5468D-2525S 15-5568D-1325S 15-5568D-1525L
This compatibility list is non-exhaustive. If your original part NO. or your laptop model NO. is not included in the compatibility list, but our battery may still fit your laptop. Please feel free to contact us to confirm the compatibility.
Durable and Reliable:
All batteries are tested bee shipment, your Laptop will work as great as when you first got the device.
Build-in special microchip will prevent your battery Over-Charging, Over-Discharging, Over-Heating and Short-Circuiting.
Terms & Conditions:
1. The payment is expected within 3 days after the product sold, otherwise the item will not be hold.
2. A reference number is essential on all emails & bank deposits otherwise you will expect the delay of shipping.
3. The item will be fully checked bee shipping, NO refund or replacement because of physical damage.