HB486486ECW Original Battery for Huawei Mate 20 Pro / P30 Pro 4200mAh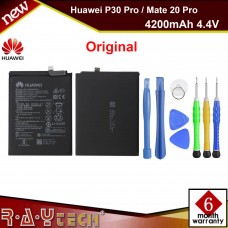 Custom Blocks
We are 100% New Zealand owned and operated with GST registered.
The invoice is issued on every purchase.
With 6 months return to base warranty.
Fast Deliver: Same day delivery, Arrived in 1-2 days.
HB486486ECW Original Battery for Huawei Mate 20 Pro / P30 Pro 4200mAh
Installation service available !!!
1 hour fast repair by booking first !!!
We do repair services for all model of mobile phones and laptops !!!
Product Code: MHUAM20PN
Specifications:
Condition: Brand New
Battery Type: Lithium-ion
Capacity: 4200mAh 4.4V
Battery health: 100%
Model: HB486486ECW
Compatible Model: Huawei Mate 20 Pro/ P30 Pro
Package Contents:
1 x Brand New Battery
8 x Repair Tools
Before you start using the battery, please follow these instructions carefully:
New Lithium-Ion batteries must be FULLY CHARGED and FULLY DISCHARGED 2 to 3 times, before being FULLY CONDITIONED. Please remember that a new Lithium-Ion battery's full performance and longevity is only achieved after 2 to 3 complete charge and discharge cycles. After you go through 2 to 3 cycles, you'll never have to condition your battery again!
Terms & Conditions:
1. The payment is expected within 3 days after the product sold, otherwise the item will not be hold.
2. A reference number is essential on all emails & bank deposits otherwise you will expect the delay of shipping.
3. The item will be fully checked before shipping, NO refund or replacement because of physical damage.