OEM 6-Cell Battery for Dell Latitude E6320 E6220 E6120 E6230 E6430S E6330 J79X4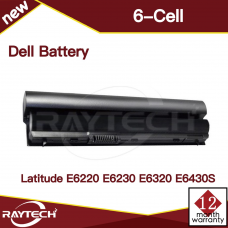 Custom Blocks
We are 100% New Zealand owned and operated.
Brand New with retails sealed Package.
with 6 month return to base warranty.
Fast Deliver:Same day delivery,Arrived in 1-2 days.
Specifications:
OEM Battery
Battery Type: 6-Cell Lithium-ion
Capacity: 5200mAh
Voltage:11.1V
Code:N1032075R
Compatible Dell Laptop Models :
Latitude E6120
Latitude E6220
Latitude E6230
Latitude E6320
Latitude E6320 XFR
Latitude E6330
Latitude E6430S
Latitude E5220
Compatible Dell Part Numbers:
09K6P, 0F7W7V, 11HYV, 312-1239, 312-1241, 312-1381, 312-1446, 3W2YX, 451-11702, 451-11703, 451-11704, 451-11979, 451-11980, 5X317, 7FF1K, 7M0N5, 823F9, 9GXD5, 9P0W6, CPXG0, CWTM0, F33MF, F7W7V, FHHVX, FN3PT, GYKF8, HGKH0, HJ474, J79X4, JN0C3, K4CP5, K94X6, KFHT8, MHPKF, NGXCJ, R8R6F, RCG54, RFJMW, RXJR6, TPHRGFRR0G; FRROG, V7M6R, WJ38, WJ383, WRP9M, Y0WYY, Y40R5, Y61CV, YJNKK,W922J
312-1242 312-1239 451-11702 451-11978 451-11979 451-11980
Package Includes:
1 x OEM Battery
Description:
This battery is an official High Capacit Battery For Dell replacement, so you can be sure of 100% compatibility with your device.
you can be confident of getting the same battery life out of your Laptop as you originally experienced.
Durable and Reliable: All batteries are test before shipment, your Laptop will work as great as when you first got the device.
Build-in special microchip will prevent your battery Over-Charging, Over-Discharging, Over-Heating and Short-Circuiting.
We are a GST registered company, the invoice is issued on every purchase
Terms & Conditions:
1. The payment is expected within 3 days after the auction closed, otherwise the item will not be hold.
2. A reference number is essential on all emails & bank deposits otherwise you will expect the delay of shipping.
3. The item will be fully checked before shipping, NO refund or replacement because of physical damage.
Please do not hesitate to contact us if there are any questions.
Thank you!!!
Happy Bidding!!!