Original LG Battery BL-42D1FFor G5 H820 H860 H868 H960 2800mAh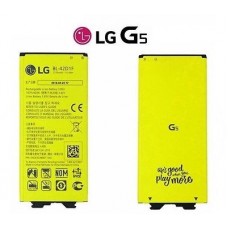 Custom Blocks
Genuine Internal Replacement Battery For LG G5 H850 H820 H830 BL-42D1F 2800mAh
Original High Capacity Genuine Internal Replacement Battery For LG G5 H850 H820 H830 BL-42D1F 2800mAh
Rechargeable Li-ION 2800 mAh battery capacity
Use as a spare to extend phone usage or as a replacement battery
Compatible with LG G5 phone models
The most indispensable accessory for your LG G5 phone is the battery.
This 2800mAh BL-42D1F battery will give your LG G5 the power it needs to work at optimum performance levels.
It truly is the best backup solution for your device.
Just pop in the BL-42D1F battery in your lg g5, and you're good to go that extra mile.
Specifications:
Manufacturer: LG
Part Number: BL-42D1F
Battery Types: Battery
Battery Type: Lion
Battery Capacity: 2800 mAh
Compatibility: G5
Package Included:
1 X Genuine Internal Replacement Battery For LG G5 H850 H820 H830 BL-42D1F 2800mAh