[L28]Original adapter 19V 2.37A 45W 3.0mmx1.1mm Power adapter. For Acer Aspire S5 S7 C720 C720P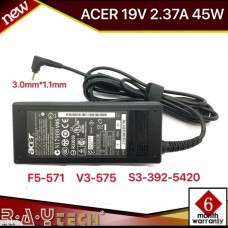 Custom Blocks
Welcome to RAY Tech. We are New Zealand's best independent direct importer and retailer of quality laptop parts and cellphone parts. We also do laptop and mobile phone repair services.


We are 100% New Zealand owned and operated.
Brand New with retails sealed Package.
with 12 month return to base warranty.
Fast Deliver:Same day delivery,Arrived in 1-2 days.


Specifications:
SKU: N2130119G
Input: AC 100-240V, 50-60Hz
Output: 19V 2.37A 45W
Warranty: 1-Year
Fast Deliver:Same day delivery,Arrived in 1-2 days
Connecter size: 3.0mm*1.1mm
Compatibility:
Acer Aspire P3 / P3-131 / P3-131-4602 / P3-171 / P3-171-6442
Acer Aspire P3-171-6682
Acer Aspire S3-392
S3-392-5420 / S3-392G / S3-392G-54204G50tws
Acer Aspire S5-391 series
S5-391 / S5-391-53314G12akk / S5-391-53334G12akk / S5-391-6419 / S5-391-6495 / S5-391-6614 / S5-391-6836 / S5-391-6838 / S5-391-9860 / S5-391-9880
Acer Aspire S7 S7-191 series
Acer Aspire S7-392 series
Acer Aspire S7-393 series
Iconia Tab W700
SF314-20
N17P3
N18I1
TravelMate X40-51 series
Acer Aspire V 13 V3-331, V3-371: V3-331-P0QW V3-331-P11X
Acer Aspire R 14 series
ACER Aspire R5-571T
Acer Chromebook 11 C730, Chromebook 11 C730E, Chromebook 11 C735, Chromebook 11 C731, Chromebook 11 C731T
Acer Chromebook C720 / C720-2800 / C720-2848 / C720-2653
Acer Chromebook C720-2844 / C720-2802 / C720-2103 / C720-2420
Acer Chromebook C720-2832 / C720-2827 / C720-2697 / C720-3404
Acer Chromebook C720-3605 / C720-3871 / C720-3445 / C720-2482
Acer Chromebook C720-29552G01aii
Acer Chromebook C720P / C720P-2666 / C720P-2834 / C720P-2664
Acer Chromebook C720P-2625 / C720P-2485 / C720P-2657
Acer Chromebook C720P-2600 / C720P-2661 / C720P-2677
Acer Chromebook C720P-2848 / C720P-2457
Acer TravelMate X313 / X313-E / X313-M / X313-M-6331
Acer Aspire Switch 11, 11V, 12 Alpha: SA5-271, SA5-271P, SW5-171, SW5-171P, SW5-173, SW5-271: SA5-271-39N9 SW5-171-325N SW5-171-34ZR SW5-171-39LB SW5-171-80KM SW5-171-86EE SW5-171-88JV SW5-171P-82B3 SW5-173-632W SW5-173-63DW SW5-173-648Z SW5-173-65R3 SW5-271-62X3 SW5-271-640N SW5-271-64V2 Acer Aspire One Cloudbook 11, 14: AO1-131, AO1-431: AO1-131-C1G9 AO1-131-C6DS AO1-131-C7DW
Acer Swift 3
Acer Spin 5 SP513-51: SP513-51-30EU, SP513-51-55ZR
Compatible Part Numbers:
KP.06503.007 KP.06503.006 PA-1650-80 NPADT1100F TP.SW7AD.65W-AS-A05 PA-1650-68 PA-1650-80 PA-1700-02 ADP-65MHB NP.ADT11.00


Note: Not all compatible model# is listed
Package Includes:
1x Original
Power
Adapter


We are a GST registered company, the invoice is issued on every purchase.