[M61]Genuine 240W 19.5V 12.3A Adapter Alienware Alienware M17x R2 R3 R4 M18x R2 PA-9E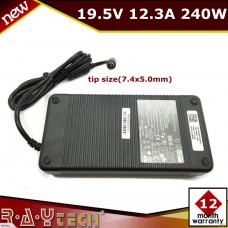 Custom Blocks
We are 100% New Zealand owned and operated.
Brand New with retails sealed Package.
with 12 month return to base warranty.
Fast Deliver:Same day delivery,Arrived in 1-2 days.

Specifications:

Original:Yes
Condition:Brand New
Input: 100~240V 50~60Hz (Internationally Accepted)
Output: 19.5V 12.3A
Wattage: 240W
Connect Size:7.4x5.0mm
Warranty: 1-Year
Code:N2030110G

This AC Adapter is compatible with the following models:

Alienware M17x
Alienware M17x R2
Alienware M17x R3
Alienware M17x R4
Alienware M18x
Alienware M18X R2
Precision M4700
Precision M6400
Precision M6500
Precision M6600
Precision M6700

Dell Part Number:

PA-9E Family GA240PE1-00 J211H ADP-240AB B J938H PA9E 330-7843 330-4342 330-4128 Y044M 450-12893 6RTJT 331-9053 C3MFM 450-18931 U896K FWCRC FHMD4 469-4547 2D76T 0J211H 0J938H 30-3514 LA240PM160 00MFK9

Note: Not all compatible model# is listed

Package Includes:

1x Original Power Adapter

-> Short-circuit protection
-> Low energy consumption
-> Power Saving
-> Overload Protection
-> Over Temperature Protection

We are a GST registered company, the invoice is issued on every purchase.

Terms & Conditions:
1. The payment is expected within 3 days after the auction closed, otherwise the item will not be hold.
2. A reference number is essential on all emails & bank deposits otherwise you will expect the delay of shipping.
3. The item will be fully checked before shipping, NO refund or replacement because of physical damage.

Please do not hesitate to contact us if there are any questions.

Thank you!!!
Happy Bidding!!!