Apple iPad 2 Battery A1376 3.8v 25Whr for A1395 A1396 A1397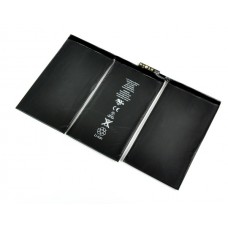 Custom Blocks
Brand New.

Original Battery for iPad 2

Product code : M1047991N

Specification:
* Li-ion Polymer Battery
* Voltage: 3.8V, 25Whr
* Capability: 6500mAh
* This battery is equipped with same chip as original battery
* The highest Quality at the market

Installation is available for additional charge ,please feel free to ask . :)


Compatible with iPad model:
Apple iPad 2 3G & Wi-Fi
Apple iPad 2 Wi-Fi
A1376 A1395 A1397 A1396


Package includes:
1x Brand New iPad 2 Battery

Terms & Conditions:
1. The payment is expected within 3 days after the auction closed, otherwise the item will not be hold.
2. A reference number is essential on all emails & bank deposits otherwise you will expect the delay of shipping.
3. The item will be fully checked before shipping, NO refund or replacement because of physical damage.

Please do not hesitate to contact us if there are any questions.

Thank you!!!
Happy Bidding!!!